Ranked n°1

Digital Pathology Solution
by Healthcare Providers
Best in KLAS 2022 & 2023
+200 clients
Diagnostics laboratories and
pharmaceutical laboratories
3 segments
Serving Diagnostic Laboratories, Pharmaceutical and Biotech organizations
+50 employees

A growing team of Clinical and Informatics experts developing reliable solutions and supporting our customers
Winner of the first edition of the

#FrenchTech2030

program
Tribun Health has been chosen as a participant in the prestigious French Tech 2030 program.
This program, led by the General Secretariat for Investment, the French Tech Mission, and Bpifrance, aims to support emerging innovative technology companies.
Tribun Health's selection highlights its position as a pioneer in the digital pathology field and leader in healthcare diagnostic solutions.
As part of the program, Tribun Health will receive tailored support, access to valuable resources, and opportunities for collaboration with industry leaders and private investors.
The recognition further validates our expertise in digital pathology and underscores our commitment to transform pathology through advanced AI-driven solutions.
🤩🙌
Advancing healthcare with smarter solutions



Tribun Health provides laboratories and pharmaceutical organizations with a state-of-the-art computational platform that leverages AI technology for diagnosis, prognosis, and drug development.
Our modular end-to-end platform empowers physicians to deliver personalized and timely therapies to patients and helps researchers to accelerate the development of new therapies.
Our platform is specifically designed to address the challenges of precision medicine and clinical development optimization, providing tailored solutions that meet the needs of the modern healthcare industry.
Tribun Health

helps accelerate

pharmaceutical innovation
A unique service combining digital pathology data, artificial intelligence models and expertise in companion test commercialization to optimize your costs, reduce your time to market and maximize your chances of success.
Discover our

Customer Stories
Digital Pathology: The Key to Achieving

Precision Medecine at Gustave Roussy
Pathologists play a critical role in accurate diagnosis alongside clinical assessments, biological analyses, medical imaging, and genomics. Anatomopathology is now an indispensable part of the diagnosis process. Gustave Roussy, a leader Cancer Centre in Europe, has leveraged AI-powered digital pathology to digitize, manage, annotate, qualify and archive images. Learn how this technology is improving pathology workflow and patient care.
Revolutionizing Clinical Pathology Practices :

The Paris Saclay Hospital Group

's Experience with Digital Pathology
In 2018, the Paris Saclay Hospital Group joined the digital revolution by integrating digital pathology into their routine diagnosis procedures. This white paper highlights the diverse benefits of this technological transition, including increased productivity, elimination of time-consuming tasks, improvised laboratory performance, and cost savings.
Let's Join Forces
Tribun Health is on a mission to revolutionize cancer diagnosis and treatment with cutting-edge solutions that support precision medicine. If you share our passion for advancing cancer care, we welcome you to join us as an investor, a partner, or a team member. Let's work together to make a difference in the lives of millions of patients and healthcare providers around the world.
11/09/2023
Owkin and Tribun Health Launch Strategic Partnership to Accelerate Access to AI Solutions for Diagnosis and Pharma Research
31/03/2023
Owkin launches PortrAIt – a €33 million project to make France a global leader in using AI to diagnose and treat diseases
05/09/2023
Tribun Health Secures €15 Million Euros In Series B Funding Round Led By Autonomous Patient Fund Of Bpifrance With LBO, Owkin And Vivalto Family As Prominent Investors
28/02/2023
Canon Medical Extends Clinically Intelligent AI-Driven Enterprise Platform to Include Pathology Through Partnership with Tribun Health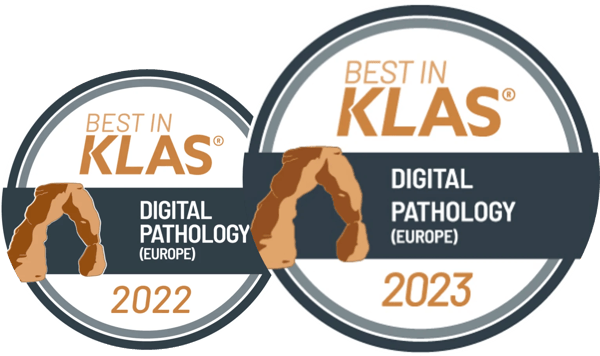 2023 Best in KLAS Winner!
For the second consecutive year, Tribun Health wins the "Best in KLAS Digital Pathology (Europe)" award for it's CaloPix solution.
"Without the trust and reviews of our valued customers, achieving this award would not have been possible. We extend our heartfelt gratitude to all those who have supported us on this journey. Our Team is very proud to be recognized for its contribution to the healthcare field. " Jean-François Pomerol, CEO Tribun Health
Since 1996, KLAS Research has been providing accurate and unbiased information about the health information technology (HIT) industry. KLAS mission is to improve healthcare worldwide by providing a voice for providers and users. The scope of research is constantly expanding to best meet the needs of the marketplace as technology becomes more sophisticated. KLAS finds hard-to-get HIT data by building strong relationships with industry users and vendors.
READ THE REPORT